Hydraulic wheel system
.Do you have problems with asphates? In 5 seconds, deploy this wheel system without even getting up from your snowmobile! Patented in Canada and the United States, WheelTracker is the only hydraulic system with the wheels inside the skis. Designed for all brands of snowmobiles.
Handlebar switch

Positioning in 3 seconds

For most recent brands and models

Only 3.5lbs per ski
Hydraulic retractable wheel system with automatic positioning. This system allows you to activate your wheels while sitting on your snowmobile. The switch is located directly on the handlebars. The positioning is done in 4-5 seconds for deployment and 3-4 seconds to deactivate them. The total weight of this hydraulic system is 11 pounds, 3 pounds per ski and 5 pounds for the oil-filled pump also including the weight of the hoses and wiring. When backing up or moving forward the wheels will not deactivate. Even if there are holes or obstacles in your way, the wheels will remain in the rolling position.

This product has been designed for all weather conditions down to -60 degrees Celsius (water, salt, calcium, ice, snow ...). This hydraulic system includes 1 12 volt pump with 1 30 amp motor producing 600 lbs of pressure and a flow rate of 2.8 liters per minute, 4 plastic coated stanless pipes and 2 aluminum hydraulic cylinders. Installation is usually done in 5-6 hours and the warranty is 1 year.

The hydraulic wheel system was designed to be installed on all brands of snowmobiles. Your hydraulic components will remain the same, even if you decide to change the brand of snowmobile. You just have to change some supports and voila, it will suit your new brand of snowmobile.

---
Industry tests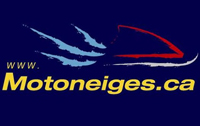 ---
New for the year at the Quebec Motorized and Recreational Sports Show!
See the complete article of Motoneige.ca written by Denis Lavoie
---
Promotional video


Pour plus d'information général au Canada contactez votre concessionnaire ou contactez nous directement.
Pour plus d'information général aux USA appelez au 1-855-387-8757.
For more general information in Canada, contact your dealer or contact us directly.
For more general information in the USA call 1-855-387-8757.